In diesem Artikel fasse ich die eingesetzte Hardware zusammen. Das Cockpit wird mit 3 Computern und einen Ultrakurzdistanz Beamer mit Whiteboard betrieben.
Update 14.05.2023: Die beiden PC für die Captain und First Officer Side wurden durch einen PC ersetzt
Update 09.07.2022: Ich habe einen neuen Flusi PC
Achtet bei der Verwendung von USB-Hubs darauf, dass an jedem Port 500 mA bereit gestellt werden. Die besten Erfahrungen habe ich mit Industrie Hubs von EXSYS (EX-1178 Metall USB) gemacht.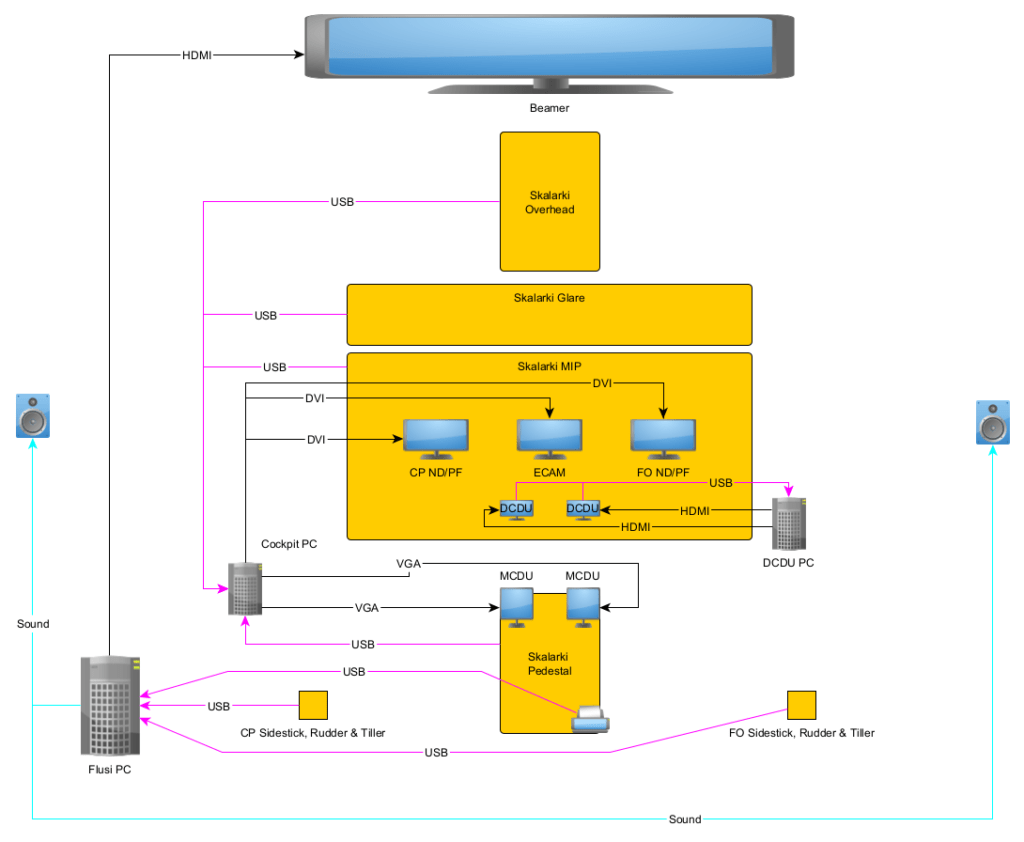 Computer
Einsatz
Hersteller / Modell
Hauptcomputer mit PREPAR3D
und JeeHell FMGS Server
Intel Core i7 12700K
be quiet! Silent Loop 2 360 Liquid CPU Cooler
ASUS ROG STRIX Z690-F GAMING WIFI
32GB DDR5 – 4800 CL40
2x Samsung 980 Pro 1 TB M.2 NVME SSD
Gigabyte RTX 3080 12GB LHR Gaming OC
Windows 11 Pro
CP Side PFD, ND, SD, EWS & MCDU
FO Side PFD, ND & MCDU
und Skalarki IO Profiler
Intel Core i7 6700k
Noctua NH-D15S CPU Cooler
ASUS Z170 Pro Gaming/Aura
NVIDIA GeForce GTX 1070 8GB | Palit Super JetStream
16GB Corsair Vengeance LPX DDR4-3000 | 2x 8GB
600W – be quiet! Straight Power E10 CM
DCDU PC
Intel NUC Kit NUC7CJYH2
Intel Celeron J4005
8 GB DDR4 RAM
128 GB SSD
Windows 10 (64 bit)
Sichtsysteme
Einsatz
Hersteller / Modell
CP Side PD & ND
19" BELINEA Monitor (101920)
SD / EWS
21,5" HP Monitor ZR2240w
FO Side PD & ND
19" BELINA Monitor (101920)
Sichtsystem
OPTOMA GT5000 Ultrakurzdistanzbeamer
Weitere Infos zum Sichtsystem mit Whiteboard
Alle Displays hängen am "Cockpit PC" und sind wie folgt angeschlossen: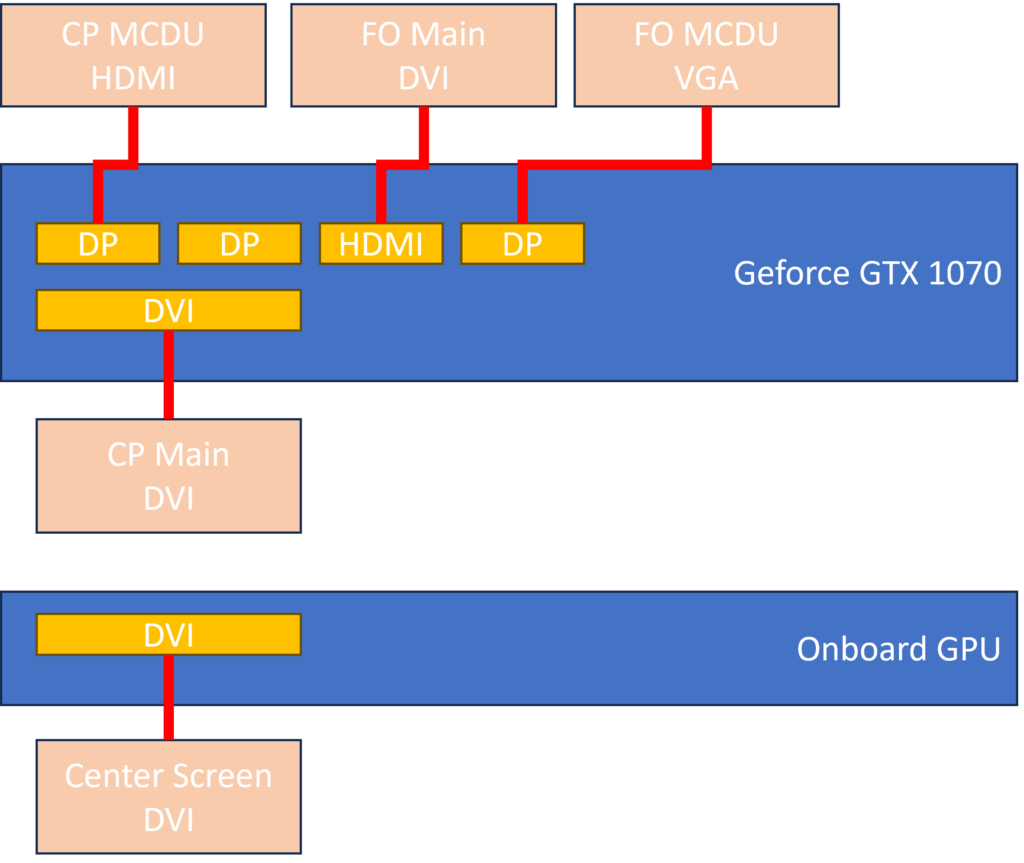 Cockpit Hardware
Tablets
Ich nutze auf der CP ein Surface Pro 6 und an der FO Seite ein Lenovo X1 Tablet mit Windows.