Meine Freeware Projekt werden kostenfrei nur nicht kommerziellen Nutzung überlassen. Sie dürfen nicht verändert oder weiterverbreitet werden. Alle Softwareprojekt werden ohne Garantie, Gewährleistung und Support geliefert!

Die Nutzung erfolgt auf eigene Gefahr!
General

SIMconfigBackup is a small to to create backups of your important flightsimulator configuration files. The idea of the software came up as a AddOn installation fully reordered my scenery.cfg. I decided that it would have been a good idea to had have a backup… ;O)
Features
Native support of FS9, FSX, FSX-SE, P3Dv1, P3Dv2, P3Dv3 and P3Dv4
Create unlimited BackupSets for different requirements (e.g. all your panel.cfg prior a aircraft update)
Add files by wildcard (e.g. "*.cfg" or "aircraft.cfg" in .\SimObjects)
Add source directorys
Restore one file or multiple files of a backup
SaveCopy to create backup of target files (e.g. for PREPAR3D® Hotfixes)
Default BackupSets included
The BackupSet just include these files if they are availible when the BackupSet will be created first time (or by clicking at "File > Restore BackupSets"). Beside these default Sets you are able to create your own BackupSets.
P3Dv1
%APPDATA%\Lockheed Martin\Prepar3D\prepar3d.cfg
%APPDATA%\Lockheed Martin\Prepar3D\dll.xml
%APPDATA%\Lockheed Martin\Prepar3D\exe.xml
%APPDATA%\Lockheed Martin\Prepar3D\Controls\Standard.xml
%PROGRAMDATA%\Lockheed Martin\Prepar3D v2\scenery.cfg
<YOUR PREPAR3D DIR>\terrain.cfg
<YOUR PREPAR3D DIR>\modules\fsuipc.ini
P3Dv2
%APPDATA%\Lockheed Martin\Prepar3D v2\prepar3d.cfg
%APPDATA%\Lockheed Martin\Prepar3D v2\dll.xml
%APPDATA%\Lockheed Martin\Prepar3D v2\exe.xml
%PROGRAMDATA%\Lockheed Martin\Prepar3D v2\dll.xml
%PROGRAMDATA%\Lockheed Martin\Prepar3D v2\exe.xml
%PROGRAMDATA%\Lockheed Martin\Prepar3D v2\SimObjects.cfg
APPDATA%\Lockheed Martin\Prepar3D v2\SimConnect.XML
%APPDATA%\Lockheed Martin\Prepar3D v2\Controls\Standard.xml
%PROGRAMDATA%\Lockheed Martin\Prepar3D v2\scenery.cfg
<YOUR PREPAR3D DIR>\terrain.cfg
<YOUR PREPAR3D DIR>\modules\fsuipc.ini
P3Dv3
%APPDATA%\Lockheed Martin\Prepar3D v3\Controls\Standard.XML
%APPDATA%\Lockheed Martin\Prepar3D v3\prepar3d.cfg
%P3DV3-ROOT%\autogen\default.xml
%P3DV3-ROOT%\modules\FSUIPC4.ini
%P3DV3-ROOT%\terrain.cfg
%PROGRAMDATA%\Lockheed Martin\Prepar3D v3\autogen.cfg
%PROGRAMDATA%\Lockheed Martin\Prepar3D v3\dll.xml
%PROGRAMDATA%\Lockheed Martin\Prepar3D v3\effects.cfg
%PROGRAMDATA%\Lockheed Martin\Prepar3D v3\exe.xml
%PROGRAMDATA%\Lockheed Martin\Prepar3D v3\gauges.cfg
%PROGRAMDATA%\Lockheed Martin\Prepar3D v3\scenery.cfg
%PROGRAMDATA%\Lockheed Martin\Prepar3D v3\simObjects.cfg
%PROGRAMDATA%\Lockheed Martin\Prepar3D v3\sound.cfg
%PROGRAMDATA%\Lockheed Martin\Prepar3D v3\terrain.cfg
P3Dv4
%APPDATA%\Lockheed Martin\Prepar3D v4\Controls\Standard.XML
%APPDATA%\Lockheed Martin\Prepar3D v4\prepar3d.cfg
%P3DV4-ROOT%\autogen\default.xml
%P3DV4-ROOT%\terrain.cfg
%PROGRAMDATA%\Lockheed Martin\Prepar3D v4\autogen.cfg
%PROGRAMDATA%\Lockheed Martin\Prepar3D v4\dll.xml
%PROGRAMDATA%\Lockheed Martin\Prepar3D v4\effects.cfg
%PROGRAMDATA%\Lockheed Martin\Prepar3D v4\exe.xml
%PROGRAMDATA%\Lockheed Martin\Prepar3D v4\gauges.cfg
%PROGRAMDATA%\Lockheed Martin\Prepar3D v4\scenery.cfg
%PROGRAMDATA%\Lockheed Martin\Prepar3D v4\simObjects.cfg
%PROGRAMDATA%\Lockheed Martin\Prepar3D v4\sound.cfg
%PROGRAMDATA%\Lockheed Martin\Prepar3D v4\terrain.cfg
FSX
%APPDATA%\Microsoft\FSX\fsx.cfg
%APPDATA%\Microsoft\FSX\dll.xml
%APPDATA%\Microsoft\FSX\exe.xml
%APPDATA%\Microsoft\FSX\Controls\Standard.xml
%PROGRAMDATA%\Microsoft\FSX\scenery.cfg
<YOUR FSX DIR>\terrain.cfg
<YOUR FSX DIR>\autogen\standard.xml
<YOUR FSX DIR>\modules\fsuipc.ini
FSX-SE
%APPDATA%\Microsoft\FSX-SE\fsx.cfg
%APPDATA%\Microsoft\FSX-SE\dll.xml
%APPDATA%\Microsoft\FSX-SE\exe.xml
%APPDATA%\Microsoft\FSX-SE\Controls\Standard.xml
%PROGRAMDATA%\Microsoft\FSX-SE\scenery.cfg
<YOUR FSX-SE DIR>\terrain.cfg
<YOUR FSX-SE DIR>\autogen\standard.xml
<YOUR FSX-SE DIR>\modules\fsuipc.ini
Screenshots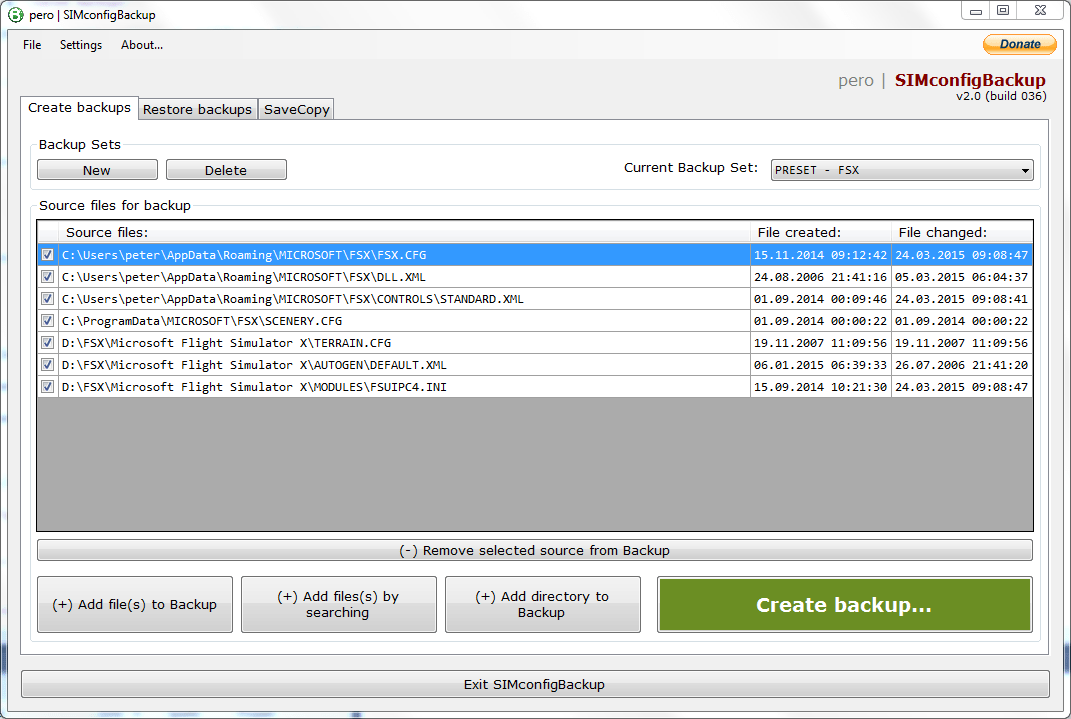 Documentation
Download
Changes
v2.3 build 01 (28.05.2017)
[FEATURE] Compatible with P3Dv3
v2.2 build 01 (25.11.2015)
[FEATURE] Compatible with P3Dv3
v2.1 build 01 (28.09.2015)
[FEATURE] SaveCopy – Improved performance at large file operations
v2.0 build 01 (25.04.2015)
[FEATURE] SaveCopy to create backups before copying
[FEATURE] Complete new file interfaces
v1.2 build 01 (28.12.2014)
Bugfix

Can't restore files at Windows 8.1

Added

Select alternative path for restore
v1.1 build 02 (30.09.2014)
Bugfix

CTD: If source file not exist while restore…
v1.1 build 01 (29.09.2014)
Added Simconnect.ini, Simconnect.cfg and Simconnect.xml to PREPAR3D v2 BackupSet
v1.0 build 01