Meine Freeware Projekt werden kostenfrei nur nicht kommerziellen Nutzung überlassen. Sie dürfen nicht verändert oder weiterverbreitet werden. Alle Softwareprojekt werden ohne Garantie, Gewährleistung und Support geliefert!

Die Nutzung erfolgt auf eigene Gefahr!
Einführung
pero | Rules of Thumb hat einige Faustregeln integriert, die dem Flugsimulator Piloten helfen, verschiedene Überschlagsberechnungen im Flug zu machen. Das Programm läuft auf Windows bei mir auf meinen CPT und FO Tablets.
Integriert sind folgende Berechnungen:
Top of Descent
Top of Descent mit Indicated Airspeed
Rate of Descent
Autobreak Stop Distance Airbus
Reverse Course
Fuel Liter <> Kilogram
Fuel für Journeylog
Time to waypoint
Zu bedienen ist das kleine Tool per Touch über die beigefügte Tastatur und somit optimal für ein Tablet im Homecockpit.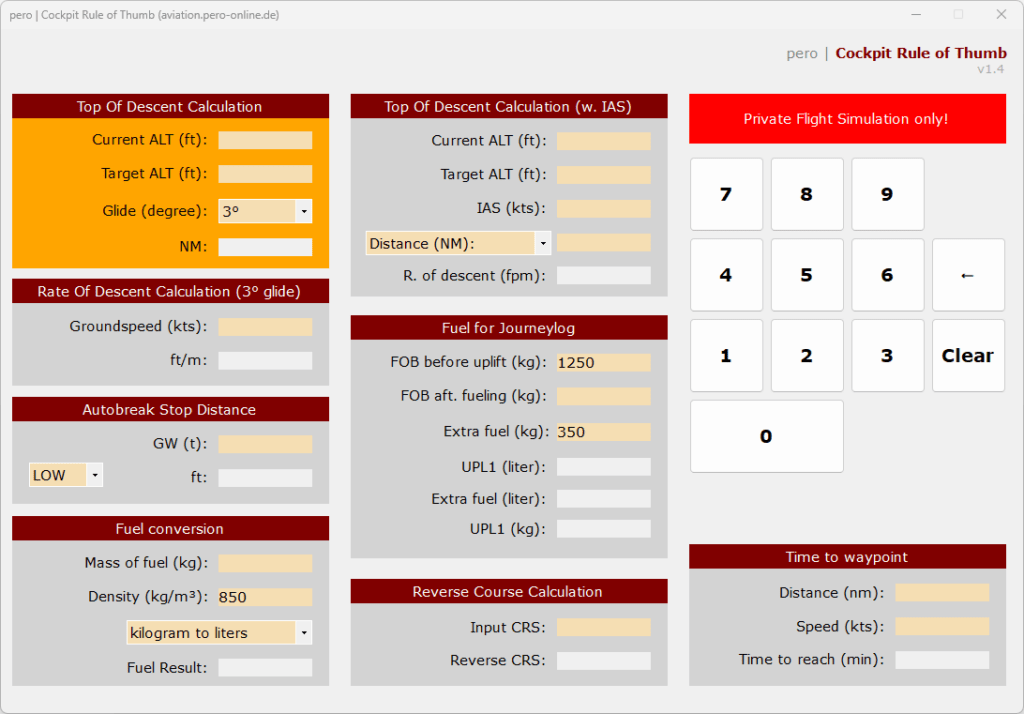 Achtung! Dieses Programm ist nur für die private Flugsimulation geeignet. Nicht für Reale Flüge verwenden!
Download