Idea
My friend Mike and me started a "World Tour" with the A320-214. We try to keep each leg to maximum 2 hrs (as we just fly at the evening). It has started in Stuttgart (EDDS) and will end there.
We want catch most nice major cities but keep more or less track on a "direct" westbound route.
For Flight Simulation only!
Routing
EDDS ENGM EGPO BIKF BGSF CYFB CYYR CYZV CYUL KLGA KDCA KDTW KORD KDFW KDEN KLAS KSFO KSEA CYXT PAJN PANC UHMA UHMM UHSS RJTT ZKPY ZSPD VHHH VVNB VYMD VQPR VIDP OPKC OMDB OTBD OKBK ORBI LTAI LGSM LGKR LIRF EDDS
Route done / Route planned
Please find detailed information here:
https://flightplandatabase.com/plan/1635877

Map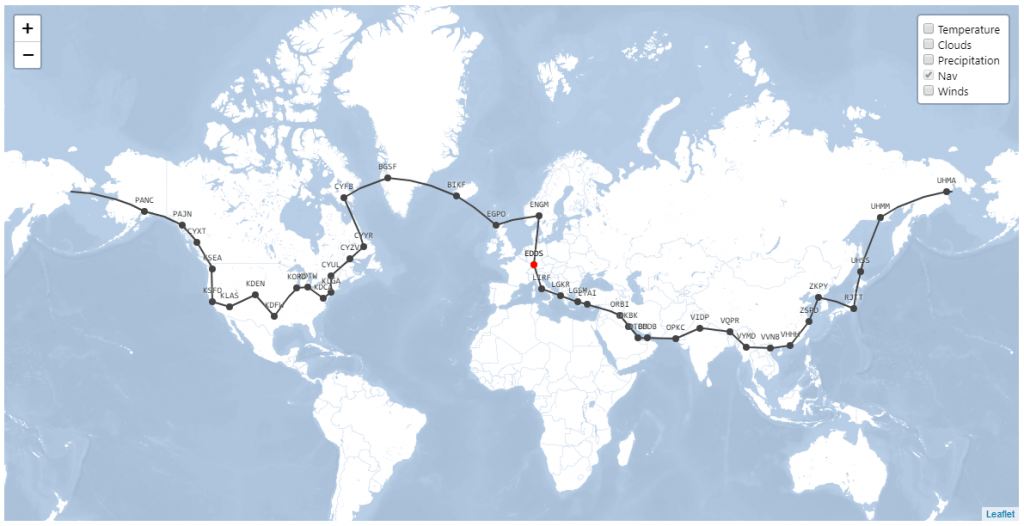 Used Scenery
ORBX Global / ORBX LC Europe
ORBX Norway
ORBX LC North America / LC South America
How to plan a World Tour?
I found a lot of links to existing Tour ideas but no one told me how to plan. I tried different (and very good) flight planning software, starting at PFPX, FSC10 to SkyVector. But they all failed by one of my needed tasks like route from Airport-to-Airport-to-Airport, see airports on map, show distance, e.g.
So I found https://flightplandatabase.com which gives me a great visualisation and nice routing. I validate all airports with Navigraph Charts Cloud where I either type the airport name, ICAO or city. The combination for me is perfect.