Dieser wunderbare Fehler hat mich beim WorldFlight Eröffnungsflug heimgesucht. Er erschien im vPilot Fenster x-Mal gemeinsam mit einem "beep-Ton". Letztendlich führten die vielen Fehler dann dazu, dass vPilot nicht mehr benutzbar war, also Frequenzänderungen nicht angenommen wurden und auch kein ATIS mehr abgefragt werden konnte. Auch ein Neustart des PC konnte das Problem nicht beheben.
Lösung des Problems war (Danke Rainer), die maximale Anzahl der angezeigten Flugzeuge zu reduzieren. Dieser Wert steht im Standard auf "999", was aus meiner Sicht wohl eh nie der Fall sein wird. Runtergesetzt auf "5" konnten wir unseren Flug dann machen. Angekommen in Melburne habe ich den Wert wieder auf "150" erhöht.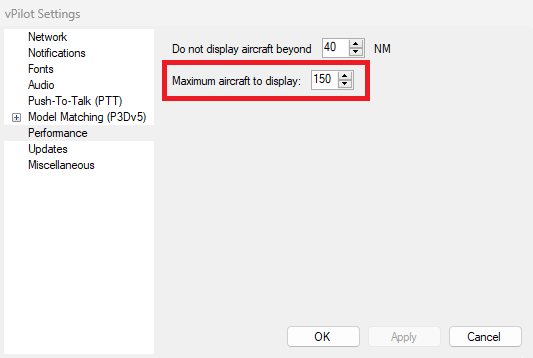 Natürlich habe ich den Fehler auch bei VATSIM gemeldet und dort kommt jemand aus dem Support Team zu der Einschätzung, dass das Problem von einem anderen Flugzeugmodell ausgelöst wurde.
---
Mostly just a guess, but probably your model matching chose a model for one of the nearby aircraft, and that model doesn't support one of the functions that vPilot calls to modify the appearance of the model, such as lowering/raising the gear or flaps, or one of the lights, etc.

Reducing the number of displayed aircraft probably caused that model to not be shown anymore, thus eliminating the error.

Were you able to just ignore the error, or was it actually causing vPilot to crash?

– Ross (VATSIM Tech Team)
---
Da ich zu diesem Fehler im Internet nichts gefunden habe, hoffe ich, dass dieser Artikel anderen weiterhelfen kann.