Introduction
This is a LUA Script for PREPAR3D which works with FSDT Ground Services X (GSX) and JeeHell FMGS. If you don't use both of them this script is useless for you.
If you are on GATE or PARKING where GSX is available and set GSX to BOARDING, DEBOARDING, CATERING or REFUELING the EXT PWR LED in the Overhead will turn to "AVAIL". With using GSX v2 at Jetway Parking position it will connect external Power once the Jetway Power is connected.
If GSX Pushback is processing or GSX v2 Jetway is being disconnected the EXT PWR will be disconnected. All functions can be manually overwritten for sure.
(Important: Make sure APU or Engines are running before push back)
Automatic door handling (can be disabled)
BOARDING ACTIVE = FWD L, AFT L and CARGO (both) open
BOARDING COMPLETED = FWD L, AFT L and CARGO (both) close
DEBOARDING ACTIVE = FWD L, AFT L and CARGO (both) open
DEPARTURE ACTIVE = ALL DOORS close
CATERING ACTIVE = SERVICE DOORS (both) open
CATERING COMPLETED = SERVICE DOORS (both) close *
* Make sure that both SERVICE DOORs have no OPEN/CLOSE Check
GSX > Customize Aircraft > Service 1 & 2 > "Door without open/close Checks"
Automated GSX Boarding/Deboarding (can be disabled).
BOARDING/DEBOARDING will be triggered by automated keypress if aircraft is on ground, Parking Brake is On and Engines are Off. As this is done by keypress you need to define the Key Setting to call GSX (default is SHIFT+CTRL+W).
ONCE THE LEG (FLIGHT) HAS BEEN COMPLETET AND ALL PASSENGERS ARE DEBOARDED YOU CAN RESTART THE PROCESS BEI EITHER CHOOSE "BOARDING" FROM GSX MENU OR RELEASE AND SET THE PARKING BREAK.
Toggle the Default Jetways if the main door
If the main door is open/close the default Jetway will be triggered if a Default Jetway is available. SODE Jetways will be triggered by the GSX Ground handling.
Note: Default Jetways can only be toggled therfore the state of Jetways can't be detected by the script.
Landing Rate Monitor
This feature records all flights and the landing formation (wind, bank, pitch, e.g. and can be reviewed in the config tool.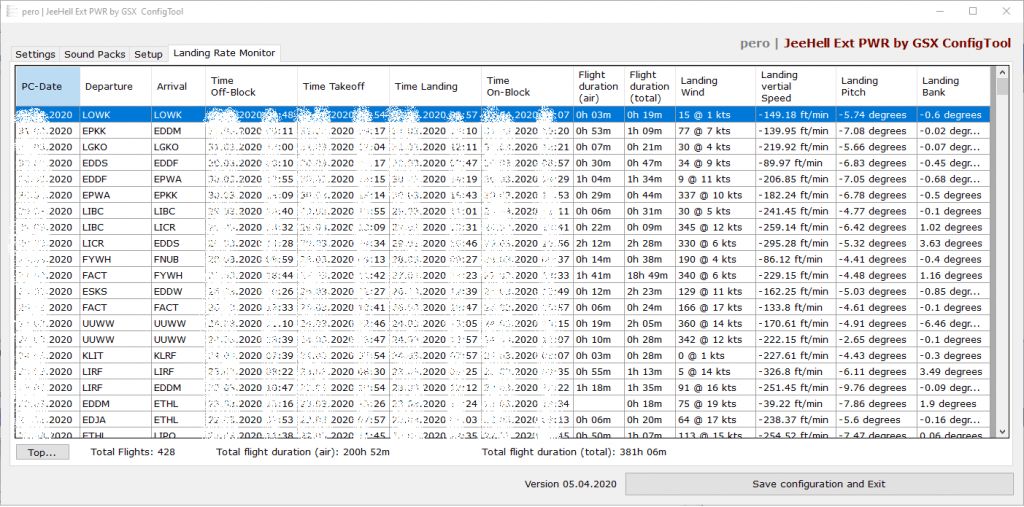 Cabin Sounds (idea based on ICA 2.0 by Simmershome)
Rainer Kunst (www.simmershome.de) created a script called ICA. This script was modified to fit into JeeHell operation. It now triggers sounds:
Welcome On Board
Safety Announcement
Taxi Music
Climb
Serving Food during cruise
Decent
Approach
After landing
Taxi Music
At Gate
Deboarding
You can download additional SoundPacks on my website below. Sounds can be disabled or enabled by pressing SHIFT + C (not when playing).
The SoundPacks will be changed randomly. So if you select more then one SoundPack you will have different Cabin Sounds on each leg.
Autohandling of (de)boarding Passengers with GSX v2
The value of boarding/deboarding passengers can be set by this script. The value will be a random result based on minimum and maximum settings in the configuration of the script. To use it you need to check "Estimate boarding passengers by GSX" to disable the input dialog.
Note: Not all dialogs can be reached by the script because there is no GSX SDK
available at the moment.
Integration in MCDU via CPDLC AOC Client (www.dalpi.com)
Thanks to Christoph Paulus who did an integration of triggering my LUA Script within the CPDLC AOC Client. You can set number of Pax, Decide if need catering, refueling or deicing, toggle sounds for Pilot non flying and Cabin. You need BETA 19 or higher for the integration.
Menu can be accessed here: ATC COMM > AOC MENU > TURNAROUND > GND SERVICE
Requirements
PREPAR3D v4/v5 must be installed
SODE 1.7 or higher should be installed
JeeHell FMGS FSUIPC Module must be installed
FSDT Ground Services X must be installed
FSUIPC v5.15 or higher (v6) must be installed
GSX v2
My LUA Script must be installed
For CPDLC AOC Integration: BETA v19 or higher (www.dalpi.de)
Installation
Please download the manual to see details.
Download
Main Software
SoundPacks (for v8 or higher)
Note: If you are german speeking you should download (German & English) SoundPacks. If you are english speeking (English) is the right selection as the announcements will be done in english only.
Release Notes
v9.13.15b 09.12.2020
	[BUGFIX]     Configuration Tool CTD in some cases when flights are not completed
	[CHANGED]    Removed confusion error message when flight cannot read
	
	If you have 9.13.15 (21.11.2020) already, you can just replace the "peroJeeHellExtPWRbyGSX.exe" file. All LUA Scripts are untouched.

v9.13.15 21.11.2020
	[FEATURE]    Added support for DATALOADER Display project. See my website for more details.
	[CHANGED]    Added 10 seconds delay before starting the script to avoid colission with other starting programs

v9.12.03 16.05.2020
	[CHANGED]    FSUIPC6 and PREPAR3D v5 is supported
	[CHANGED]    Jetways connect with new SODE Jetways. Calling my Script disconnects the Jetway which makes no sense.
	[CHANGED]    When using CPDLC Integration the script will run without pressing BATT1/2 (new starting conditions)

v9.12.01 05.04.2020
	Configuration Tool updated

    [FEATURE] Landing Rate Monitor
        - "Time Landing" added
        - "Flight duration (air) / (total)" added
        - "Total Air/Block time" added
		- Date columns are sortable
		- "TOP" Button shows top 5 Departure / Arrival airports
    [FEATURE] Starting "peroJeeHellExtPWRbyGSX.exe /monitor" opens the Landing-Rate-Monitor only
	
v9.11.35 15.02.2020
	[BUGFIX]	"Cabin prepare for Takeoff" announcement in the air
	[BUGFIX]	Landing Report does not appear if "Cabin Sound" was OFF
	[CHANGED]	Turn Taxi Music off if "Cabin Crew Sound" turned to OFF via MCDU or Key-Combo-Press
	

v9.11.24 25.01.2020 
	Configuration Tool updated - Please open and Save your configuration again!

	[FEATURE]   Trigger STOW RAT when script is running	
	[CHANGED]	Icing changed to value from Active Sky
	[CHANGED]	Icing Warning comes up very 2 minutes if non of the Anti Icing Systems are switched on
	[CHANGED]	Once Icing is detected it stays at least 10 Minutes
	[CHANGED]	Clear JeeHell Offset "Backlight" Bit 0 to avoid GSX is running before Aircraft loading completed
	[CHANGED]	PNF Callout "Thrust set" plays if N1 and N2 > 80%
	[CHANGED]	Enhanced logging for Sound play
	[BUGFIX]	Fix Jetway Issues with Just Sim EDDL v2
	[BUGFIX]	Landing Report does not appear if "Cabin Sound" was OFF
	[BUGFIX]    No Cabin Sounds after first leg if no deboarding has been triggered
	

v9.10.12 10.11.2019
	Configuration Tool updated - Please open and Save your configuration again!
	
	[BUGFIX]	Repeating "Cabin Crew prepare for landing" sound in some cases
	[CHANGED]	Bass reduced from new PNF announcements


v9.10.8 30.10.2019
	Configuration Tool updated - Please open and Save your configuration again!

	[FEATURE]	Structual Icing Warning will appear if %-value reached. PNF announcements for Icing (if PNF option is activ) otherwise message von SimScreen.
	[FEATURE]	PNF "Cabin Crew prepare for Takeoff" before take off when STROBE Light set from Off to On
	[FEATURE]	PNF "Cabin Crew prepare for Landing" in approach when flaps are "Full" or "Flaps 3 LDG selected in OVHD"
	[FEATURE]   GSX "Start engines before pushback" behavior can be defined in ConfigTool
	[FEATURE]   Disable boarding/deboarding Pilots
	[FEATURE]   Disable boarding/deboarding Crew
	[FEATURE]   Calling for stairs if no jetway available (in Cold and Dark)
	[FEATURE]	Script only starts if current [GENERAL] ATC_Type is part of the array "ac_allowedATCmodels"
	[FEATURE]	Bad landing has it's own value and can be set different from the applause value (or disabled with 0)
	[CHANGED]	PNF V1 and VR can be disabled in menu by setting the speed value to "Off"
	[CHANGED]	Pause between landing and applause set from 2 seconds to 5 seconds
	[BUGFIX]	EXT PWR stays AVAIL when Departure has been called


v9.8.2	18.04.2019
	[FEATURE]	Engine 1 and Engine 2 Fire will by animated if engines are running (sync of the JeeHell Offsets with the Aircraft Effects)


v9.7.1	03.03.2019
	[BUGFIX]	Doors do not close if pushback without boarding
	[BUGFIX]	EXT PWR does not disconnect if pushback without boarding
	[BUGFIX]	PNF V1 and PosClimb Callouts are misplaced in some cases
	[BUGFIX]	Config Tool shows wrong sound devices


v9.6.4	18.02.2019
	[FEATURE]	Autodetect A330
	[FEATURE]	Reload the Script if other aircraft is selected
	[CHANGED]	Applause is waiting 2 seconds after touch down
	[BUGFIX]	Cabin Sound Announcements missing after "Ding-Dong" in some cases


v9.5.9	09.02.2019
	[BUGFIX]	"Bad landing sound" plays even if "Cabin Sound" is Off or Applause is set to "0"


v9.5	09.02.2019
	Configuration Tool updated - Please open and Save your configuration again!

	[FEATURE]	Added Cabin sound for "bad landing" (depending on V-Speed)
	[FEATURE]	PNF Default V1 and VR speeds can be set in Config Tool
	[CHANGED]	CGO doors open after Catering completed (if Catering has been requested)
	[CHANGED]	Reduced pause between touchdown and applause/bad landing sound
	[CHANGED]	Code optimization for better performance
	[CHANGED]	V1 VR Scratchpad will be cleared after 3 seconds
	[BUGFIX]	PNF callouts not play if Cabin Sound = OFF
	[BUGFIX]	PNF V1 and VR callouts do not overlap if speeds are close or the same
	[BUGFIX]	PNF "Positiv Climb" callout work with GoArround
	[BUGFIX]	PNF ThrustSet speed set to 80kts according to QRH
	[BUGFIX]	Safety Announcements are hanging in some cases
	[BUGFIX]	EXT PWR Avail did not work properly in all cases
	[BUGFIX]	Doors are closing if Pushback called and boarding still running


v9.4	03.02.2019
	[FEATURE]	Added "Thrust Set" and "70 kts" (after landing) callouts für PNF
	[BUGFIX]	V1 and VR Soundfiles missed in v9.3


v9.3	02.02.2019
	[FEATURE]	Set V1 and VR by using "PRESS KEYS" in the MCDU Menu (see manual for details)
	[CHANGED]	If Catering is switched "YES" it calls Catering before Boarding
	[CHANGED]	Logging indicates if JeeHell FSUIPC is not installed ;-)
	[BUGFIX]	Cabin Music plays even if CabinSound is switched to "NO"


v9.2	25.01.2019
	Configuration Tool updated - Please open and Save your configuration again!

	[FEATURE]	Refueling moment can be selected from "with", "before" or "after" Boarding starts
	[CHANGED]	"Enable GSX automation in general" can't be set of "Off" if CPDLC AOC Client is "On"
	[CHANGED]	Safety announcement starts either 
				a) if "Welcome" has taken place and the adjustable timer has passed (in Config Tool) and aircraft is not rolling
				b) aircraft is rolling > 2 kts and < 30 kts
	[BUGFIX]	"BOARDING START *" even if GSX is disabled
	[BUGFIX]	Logging logs every second.


v9.1	19.01.2019
	Configuration Tool updated - Please open and Save your configuration again!

	[FEATURE]	New "MENU double click" has been integrated if you want to use for example ProATC Menu (see manual for details)
	[FEATURE]	Added Sound Direction for Surround Soundcards (in Config Tool)
	[CHANGED]	Keypresses take care that Simulator Window "has focus" to reduce "ghost keypress"
	[CHANGED]	If CPDPL AOC Client Integration is used operations won't start until both BATT Korries are ON (and Park Break = On / both Engines = Off)
	[BUGFIX]	Boarding starts when opening the GSX menu
	[BUGFIX]	GSX menu is answered even if GSX operation is disabled in Config Tool
	[BUGFIX]	Using "GSX Menu" (after requesting pushback) not responds that fast


V9		12.01.2019
	This version needs GSX L2 and P3Dv4 because there a special features that are only included in FSUIPC5 and GSX L2!
	[FEATURE]	MCDU Integration with CPDLC AOC Client
	[FEATURE]	GSX Menu is now answered "very fast" by reading it 😉
	[FEATURE]	Added Key combination to toggle PNF announcements
	[FEATURE]	Taxi Music can be selected to use your own sound file
	[FEATURE]	F1 – F23 are possible for key combination
	[FEATURE]	Landing Rate Monitor creates a Logfile
	[CHANGED]	Taxi Music starts after Boarding completed
	[BUGFIX]	"Requesting fuel" does not work in special cases
	[BUGFIX]	Sound stops very strange
	[BUGFIX]	Loop if only one SoundPack is selected
	[BUGFIX]	Configtool crashes if no [Sounds] found in FSUIPC.ini
	[BUGFIX]	Others…
	

V8		22.12.2018
	[FEATURE]	Added special SoundPacks for the Cabin Sounds
	[FEATURE]	Config Tool has do be used for configuration
	[FEATURE]	Refueling can be set in the LUA Script
	[FEATURE]	Added Landing Report on Touchdown
	[FEATURE]	Added "Applaus" when V-Speed in special range at touchdown
	[FEATURE]	Pilot none flying does callouts like "100 kts" and "Positive Climb"
	[CHANGED]	Cargo Doors open when boarding requested
	[BUGFIXES]	A lot…
	
	
v7		01.12.2018
	[FEATURE]	Added chapter "Troubleshooting" to the manual
	[FEATURE]	Use CTRL+C to switch off the ICA Sounds (message appear)
	[BUGFIX]	Random Passengers for GSX v2 did not work randomly
	[BUGFIX]	When Catering & Boarding selected the Catering doors are to late
	[BUGFIX]	When Catering & Boarding selected the cargo door are too soon
	[BUGFIX]	When Catering & Boarding selected the catering was not called at any time
	[BUGFIX]	Deboarding does not close the CARGO Doors
	[CHANGED]	Climb Announcment will be played based on altitude difference to the departing airport (avoid playing the sound when starting at high altitude locations)
	[CHANGED]	Main Exit is opening when Jetway has been connected
	[CHANGED]	Deboarding Sound will be played when Jetway has been connected
	[CHANGED]	Safety Sound will be skipped if GS is higher then 30 kts within 8 seconds (to avoid sound when starting directly from runway)
	[CHANGED]	Descent Sound will be played once 3000 ft below highest altitude
	
	
v6		17.11.2018
	[FEATURE]	Integrated Simmershome Intelligent Cabin Announcements v2
	[FEATURE]	Added GSX v2 Passenger Boarding
	[CHANGED]	Using GSX v2 the Ground Power will be connected with the jetway
	
	
v5		30.06.2018
	[BUGFIX]	Standard Jetways will be toggled when not at gate (Shift Message in Sim)
	[BUGFIX]	EXT PWR AVAIL comes up sometimes if aircraft not at the gate
	
	
v4		10.05.2018
	[FEATURE]	Standard Jetways will be toggled together with Main Left Door (does not work with SODE Doors)
	[CHANGED]	General improvements

v3		25.04.2018
	[FEATURE]	Automation of intial triggering BOARDING and DEBOARDING via keypress
	[FEATURE]	Logging added
	
	
v2		15.04.2018
	[FEATURE]	Door handling added
	[BUGFIX]	showMessage did not works


v1		05.04.2018
	Initial Version