Please note that SIMstarter Freeware won't be supported any longer. Please use the successor
SIMstarter NG
!
General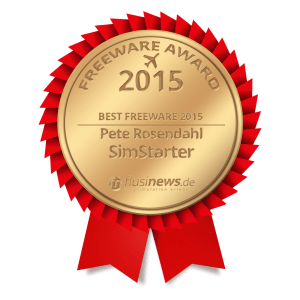 SIMstarter is a tool to define different starting profiles for Microsoft Flight Simulator X, Microsoft Flight Simulator – Steam Edition, PREPAR3D v2 and v3. You can set up an individual profile e.g. for your VFR Flights in one region with a lot of eyecandy and another for your IFR flights with less autogen, another scenery and so on. In addition SIMstarter includes a lot of other helpful tools to manage your SIM configuration.
But – test it your self! ;O)
Features
Define up to 9 independent Start profiles to start FSX/PREPAR3D
JumpStart to "jump" into a saved flight in combination with a SIMstarter profile
All settings of FSX and PREPAR3D can be configured by mouse-click for each profile
Select preconfigured tweaks for FSX and PREPAR3D
Create individual ScenerySets for each profile to disable scenerys which are not needed
Create individual start definition and file operations (copy, rename, delete files) for every profile including exit program when Simulator has been exited
Create individual XML-Set for DLL.XML and EXE.XML for FSX and PREPAR3D

Define Standard Flight for every profile

All changes will be documented in Logbook
Create shortcuts to Desktop for every profile
Including Livery Manager to sort or hide Liveries
Sort and validate configuration Files like fsx.cfg
Diff-Manager which manage changes that have been done by other programs
TextInfo Manager to easily define TextInfo and SlewTextInfos
GoogleEarth Export to show all your AddOn Sceneries in GoogleEarth
Clear your joystick controls for homecockpit users
Select individual SplashScreens for every profile
SIMstarterClient to start programs on a remote computer
Screenshots
Documentation
Compatibility
Microsoft Flight Simulator X SP2
Microsoft Flight Simulator X – Steam Edition
Lockheed Martin – PREPAR3D v2.4 and v2.5
Lockheed Martin – PREPAR3D v3.0 and v3.1 (with restrictions – not 100% compatible)
IMPORTANT
User of PREPAR3D need to select the right PREPAR3D Version in "Program settings…" > PREPAR3D. If you are using P3Dv3 and P3Dv2 in parallel please install a dedicated instance of SIMstarter. DO NOT USE v2 and v3 within one SIMstarter installation!
If you are using P3Dv3 please read this!
DO NOT use P3Dv2 profiles with P3Dv3!
Some features like Splashscreens are disabled at the moment because of an incompatibility with P3Dv3 (only for P3Dv3 users).
Please note that SIMstarter Freeware won't be supported any longer. Please use the successor
SIMstarter NG
!
Downloads
_______________
Update
To Update you need at least Version 2.6.03!
Simply reinstall the new version on top of the existing version.
Start SIMstarter > Settings > GoogleEarth Export settings… > Get settings update
Changes
v2.7 build 05 (10.04.2016)
[CHANGED] GENERAL – Donation button removed and NG information added
v2.7 build 04 (01.01.2016)
[BUGFIX] Jumpstart – Messageboxes removed :O)
[BUGFIX] PREPAR3D – Ready for P3Dv3.1
v2.7 build 03 (28.11.2015)
[BUGFIX] Update page – Download Link does not work
[BUGFIX] SceneryManager – Renaming ScenerySets does not work as expected
v2.7 build 02 (24.11.2015)
[BUGFIX] SceneryManager – SIMstarter hidden after return from SceneryManager
[FEATURE] ORBX Settings Tab – ORBX Hybrid Mode available
[CHANGED] Startup – ORBX Region switch will be done BEVORE scenery.cfg handling
v2.7 build 01 (17.10.2015)
[FEATURE] P3Dv3 – Compatible with P3Dv2.4, 2.5 and 3.0
[FEATURE] SceneryManager – New SceneryManager with a lot of improvements
[FEATURE] SceneryManager – Overview of all ScenerySets
[FEATURE] SceneryManager – Groups (Spacers) available to easy activate or deactivate a group of Sceneries
[FEATURE] SceneryManager – Add, Delete and edit Sceneries from Scenery.cfg
[FEATURE] SceneryManager – Change Scenery order (with more than one selected Scenery)
[FEATURE] SceneryManager – Insert Scenery at the selected cursor position
[FEATURE] SceneryManager – Drag and Drop Scenery folders from outside (to easy add them)
[FEATURE] ORBX Settings Tab – Auto select ORBX Region without using FTX Central 2 (THANKS to Michael!)
[FEATURE] StartManager – Programs can be set to pause to allow waiting for 3rd party programs
[CHANGED] Settings – FTXcentral Reminder removed. Can be handled in ORBX Tab of each profile
[CHANGED] Startup – ORBX Region switch will be done after scenery.cfg handling
[BUGFIX] Jumpstart – Misplacing of southern latitude locations (THANKS to Ken!)
[BUGFIX] Profiles – Realism > Autorudder to AutoTRIM renamed (THANKS to Rainer!)
v2.6 build 03 (25.04.2015)
[ADDED] StartManager – Filename can be choosen at copy and rename
[BUGFIX] GoogleEarth Export – "Google Earth not found"
[BUGFIX] GoogleEarth Export – METAR and better formating
[FEATURE] SceneryManager – Added function to disable or enable a complete SceneryGroup by clicking to the Group name (ScenerySpacer). You need to delete older ScenerySpacer that are made prior this SW Version.
[BUGFIX] GENERAL – Desktop shortcuts do not work
v2.6 build 02 (06.03.2015)
[BUGFIX] StartManager – Selection jumping away
[BUGFIX] General – Some BETA message boxes have been removed
v2.6 build 01 (04.03.2015)
[ADDED] PREPAR3D – Compatible with PREPAR3D Version 2.4 and 2.5
[ADDED] PREPAR3D – Tweak for v2.5
[ADDED] FSX-SE – Compatible with FSX Steam Edition
[ADDED] GENERAL – Clear controls: Just empty your joystick controls by "click" (for Homecockpit builders)
[ADDED] GENERAL – Improved FTX Central reminder
[ADDED] GENERAL – Improvement of LiveryManager
[ADDED] SIMstarterClient – Client to start programs on a remote computer
[ADDED] Active Sky Next – can be configured within every SIMstarter profile
[BUGFIX] LIVERY MANAGER – CTD when selecting "hidden Liveries"
[BUGFIX] GENERAL – VARIABLE =VALUE has been fixed